ANTILLIA is the name I gave to a project I cherish since my youth: my own school. Becoming a secondary school teacher later, I noticed how many young people didn't have a clue as what path for them to follow after they graduated. As a graduate myself long ago, I dreamed of a lot of things, but certainly not of what would become my path: a university career in language that led to 30+ years of teaching in a secondary school... I want to offer those who struggle with those questions after graduation a "safe heaven", a "freeport" where they can take whatever time necessary to find out what their appropriate path is, what path suits their talent, what path eventually leads to fulfillment of what is imprinted in their souls (consider "graduates" as people of all ages...). Therefore I need equally inspired "teachers" to reach out a helping hand, guides to inspire them, pilots to lead their ship out of port into open sea where they can become pilots & captains themselves, because now they will know how to use their Soul's compass.

I first heard of this name by my father, painter & poet (see middle section).

You can find out more about origins & history of "Antillia, Isle Of The 7 Cities", and how it is a kind of "Atlantis" here: ANTILLIA

Picture: The Island
Antillia
, 15th century,
drawing & poetry (Dutch) by my Father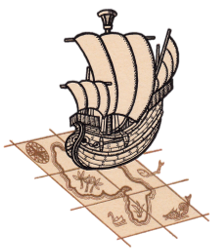 Summer Course 2012
ANTILLIA is a "moving" project, though there will be a central "bridge head", I believe that being on the move offers the best opportunties to "learn how to drive yourself".

To materialize this dream we need:

+ teachers (we all are teachers & students at the same time!) > craftsmen & women, people who want to share & show their talents, people who believe that 'there is more between heaven & earth..."
+ ships & captains, planes & pilots
+ cars, trucks, buses, RV's & drivers
+ a suitable location & home > the "bridge head"(ingredients: tidal sea, mountains & forests, large housing, air field & landing strips, port, etc.)
+ private investors & funds ( > donations)
+ the shared wish & belief that we are here for a reason, which simply is the fulfillment of what Love has imprinted in our Souls: the manifestation of Creative Energy, and each one of us has a personal & unique talent to unfold it in all its splendour. For the moment my 'moving' project
offers learning space to 1 "student"
.. > ps: did you know that the Ancient Greek word for "school" meant: "leisure time, free time in between work?"...

So: "Let It ANTILLIA .be"